Bayern Munich: Thomas Muller closing in on career-high Bundesliga numbers
Thomas Muller is nearing career-high offensive numbers in the Bundesliga. Bayern Munich veteran currently leads the German top-flight in assists with 16 being recorded in 25 appearances.
To date, his best assist tally in the Bundesliga came last season when he produced 21 assists in 33 appearances. With six matches remaining in the 2020/21 campaign, Muller needs to average one assist per match in order to better his 2019/20 assist total and record a new career-best.
When it comes to combined goals and assists, Muller has a total of 26 with his ten goals and 16 assists this season in the Bundesliga. Just like his career-best assist tally, the highest number of combined goals and assists he's recorded in a single campaign came from last season.
Muller had a total of 29 combined goals and assists during the 2019/20 season. He just needs to record a combined total of four to register a new career-high in this statistical category this season.
Muller's recent form paving the way to impressive assist total
With seven assists in his last seven Bundesliga appearances, Muller's recent form has allowed him to open up a healthy advantage in the race to become the league's assist leader. He's been instrumental throughout the current campaign for Bayern but this stretch of the season has been especially impressive.
Based on the consistent assists Muller's been producing recently, there's reason to believe he can set a new career-best in assists. With Robert Lewandowski likely to be back in the lineup for the last few matchdays, Muller will have plenty of opportunities to record more assists. This will certainly be something to watch for in the final weeks of the season.
The king of assists in Europe's big leagues?
Currently, Muller is the assist leader in Europe's top five leagues. His 16 assists is the highest number recorded by any player in the Bundesliga, Premier League, Ligue 1, La Liga, and Serie A. Tottenham Hotspur's Harry Kane is close behind in second place with 13 assists.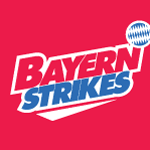 Want your voice heard? Join the Bayern Strikes team!
Write for us!
If he holds onto the lead, it would be the first time in Muller's career he would be the stand-alone leader of assists in Europe's top leagues. Last season, he was tied for first place with Barcelona's Lionel Messi with both players recording 21 assists. It would be a well-deserved accomplishment for Muller if he does indeed finish as the assist leader in Europe's top leagues for the 2020/21 season.