Bayern Munich: Three things to watch for against Eintracht Frankfurt
Three things to watch for as Bayern Munich face Eintracht Frankfurt.
Bayern Munich will face one of the four remaining unbeaten clubs in the Bundesliga on Saturday. Eintracht Frankfurt enters the fixture having yet to lose a match in the German top flight this season. Both clubs are in the top four and will be looking to hold onto their places near the top of the table. Here are three things to watch for on Saturday.
Robert Lewandowski vs. Andre Silva
Two of the Bundesliga top goal scorers will be in action in this fixture. Frankfurt's Andre Silva has scored three goals in four matches and Bayern's Robert Lewandowski enters with seven goals in four matches. Both of these players should be key difference-makers on the outcome of this fixture.
Silva did not score against Bayern last season but did register an assist in the shocking 5-1 victory Frankfurt achieved last November. Lewandowski has fared well against Frankfurt in past matches and scored in both of last season's fixtures. The Polish striker is currently leading the Torjägerkanone race and can become the first player in the Bundesliga to reach 10 goals scored if he registers a hat-trick.
Bayern look to go top of the table
If RB Leipzig either loses or draws with Hertha Berlin then Bayern could go to the top of the Bundesliga table with a victory against Frankfurt. It is too early in the season, but having a good lead at the top of the table breeds confidence in the squad and helps them to keep the momentum in other competitions.
Despite the loss to Hoffenheim they could begin to regain the top spot in the league starting with a victory on Saturday. This will be easier said than done as Frankfurt will offer some of the toughest competition Bayern has faced so far in the domestic season.
After losing 5-1 to Frankfurt last season on matchday 10, Bayern will be also be looking to avoid another upset. That loss led to the departure of Niko Kovac and was a turning point in the 2019/20 campaign. They will not want a repeat performance which could set them further back in the race for another Bundesliga title.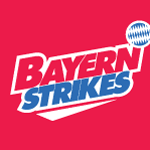 Want your voice heard? Join the Bayern Strikes team!
Write for us!
Squad rotation
It will be interesting to see which players are named to the starting XI as Bayern recover from their mid-week triumph over Atletico Madrid in the UEFA Champions League. They have another Champions League fixture on the horizon following Saturday's match as Lokomotiv Moscow awaits on Tuesday. Players such as Alphonso Davies, Douglas Costa, and Javi Martinez could make their way into Hansi Flick's starting XI against Frankfurt after being utlizied as substitutes on Wednesday.