Who are the top rated Bayern Munich players in FIFA 21?
Seven Bayern Munich players were named to FIFA 21's top 100 list.
The release of FIFA 21 is drawing near as the annual game will be available on Oct. 6. With a month still to go until the release date, the top 100 players in the game were released on Thursday. Seven Bayern Munich players made the list of the top players. Here is how they were rated and who made the list.
Lewandowski will be the top-rated player on Bayern's squad. After a terrific season it comes as little surprise he's the best in the game for Die Roten. The striker is rated as the third-best overall player in the entire game behind Lionel Messi and Cristiano Ronaldo. His best ability was shooting as he received a 91 rating along with an impressive four-star weak foot and skill moves.
Die Roten's veteran player was one of the highest-rated goalkeepers in the game. However, he was fourth overall in the goalkeepers named to the top 100. Atletico Madrid's Jan Oblak was the top player while Alisson and Marc-Andre Ter Stegen were just ahead of Neuer at 90 overall. Based on the recent UEFA Champions League performances, it is surprising to see Neuer rated just behind Ter Stegen.
Kimmich was among the top midfielders listed. He was ranked just inside the top 20 players at no.19. Only Kevin de Bruyne and Casemiro were rated higher in the central midfield positions. In a bit of surprise, Kimmich received the same overall rating as Germany teammate Toni Kroos. His best three abilities are passing, dribbling, and defending.
The ever reliant Muller was Bayern's fifth player to be named within the top 50. Muller came in at no.49 overall in the top 100 players. He was listed as the 10th best central midfielder as FIFA has his preferred position as a central attacking midfielder. Among his best abilities are shooting, passing, and a four-star weaker foot rating.
Rekordmeister's stellar winger is ranked 11th among wingers in the game and 63rd overall. Among his top abilities are pace, dribbling, and shooting. After a splendid last season domestically and in the Champions League, Gnabry earned a well-deserved spot among the best.
For the time being, Thiago remains a Bayern player. The talented midfielder came in just behind Gnabry at 66th overall in the rankings. He has a 90 rating for dribbling and an 85 for passing. However, perhaps one of his best attributes will be the five-star skill move rating he received.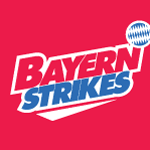 Want your voice heard? Join the Bayern Strikes team!
Write for us!
Summer signing Sane is the last Bayern player to appear in the top 100. He is rated as the 15th best winger in the game. To no surprise, his best attribute will be his pace which received a 93 rating.