Bayern Munich: Robert Lewandowski lights up European tie against Chelsea
Robert Lewandowski continues to deliver for Bayern Munich at the biggest stage.
Two years ago, Robert Lewandowski was getting all the flak after Bayern Munich were knocked out in semi-finals against Real Madrid. It was a closely fought contest over two legs, but Lewandowski struggled to impose himself against the best side in Europe. In 2020, Lewandowski 2.0 is getting better of big teams in Europe as he contributed to four goals against Chelsea on Saturday.
After another disappointing campaign in Europe during the 2018/19 campaign, Lewandowski was eager to leave the club for a new adventure. Real Madrid were heavily linked with a move for the Polish striker, but Die Roten decided to dig deep and reject the striker's plea to leave the club.
Since the frustrating transfer window in 2018, it has been a big turnaround for Lewandowski in Bavaria. He reportedly held talks with the club for asking more support when things are not going well for him on the pitch.
The club decided to stick with their number nine, and he enjoyed a consistent season under Niko Kovac. However, there was disappointment in Europe once again as Liverpool got the better of them in the round of 16. Lewandowski again failed to come up with goals. The doubts continued to linger around Lewandowski, whether he can deliver at the big stage for Bayern.
Nevertheless, the Polish striker was not going anywhere as he felt settled in Bavaria. The club also obliged by handing him a new contract at the start of 2019/20. They knew that Lewandowski is a top goalscorer, but nobody might have anticipated such monstrous performances from the Pole during the ongoing campaign.
Lewandowski is currently on 53 goals after scoring two more goals against Chelsea on Saturday. The Pole has scored 13 goals in eight Champions League games, which included four encounters against Chelsea and last year's runners up-Tottenham Hotspurs.
The Pole also assisted two goals against Chelsea, showing that he is more than a goalscorer. Along with scoring goals, Lewandowski became a self-less striker in this campaign, who was working hard for the team and creating chances for other forwards. Strikers being greedy for goals is completely normal. However, scoring loads of goals along with creating chances consistently makes him the best number nine in Europe.
Lewandowski will be looking to further cement the best campaign of his career by scoring against Barcelona next weekend. Even if he fails to do, the old criticism of him not turning up in big games will not come back to haunt him since he has come clutch for his team throughout the season.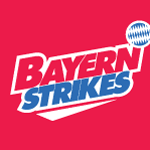 Want your voice heard? Join the Bayern Strikes team!
Write for us!
Die Roten and Lewandowski are justified to be upset for the cancellation of Ballon d'Or award this season. The Pole deserves to get the accolades for a remarkable individual season with the biggest award in European football. Considering Lewandowski's selfless hard work this season, he will be more than happy with guiding Die Roten to Champions League even if his efforts don't get rewarded. Irrespective of what happens in next fortnight, the Polish striker has raised the bar and scaled new peaks this year.