Ronan Murphy Exclusive: Hansi Flick is perfect appointment for Bayern Munich
Bundesliga expert Ronan Murphy speaks about Bayern Munich and Bundesliga.
Ronan Murphy is a social producer and journalist for Goal. He mainly focuses on German football and Irish football. In an exclusive chat with Bayern Strikes, Murphy discusses various things related to Bundesliga and Bayern Munich.
Bundesliga returned last weekend and Bayern Munich continued their march towards another league title. What were your thoughts and takeaways from the games in the matchday 26?
Everything surrounding the games was different, the lack of fans and atmosphere, the substitutes wearing masks 2m apart, all that was different. But what actually happened on the pitch wasn't as different as expected. The good teams continued to be good and the bad teams continued to be bad. Aside from Hertha, who had that new coach bounce, but it was just the same Bundesliga as always. Which was refreshing in these troubled times.
How do you see title race shaping up in the Bundesliga? Which team do you think will fight with Die Roten till the end?
Bayern Munich stand in a comfortable position and looked no weaker since the break. They continue to be the Bundesliga's best team, and if they can keep Lewandowski and other key players fit, they should wrap up the Bundesliga again. Borussia Dortmund have plenty in attack, but will find it difficult to match Bayern's starting XI and anything less than a win for them on Tuesday will likely hand the title to Bayern.
Who is your player of the season for Bayern and why?
Thiago is probably the Bayern Munich player of the season every season. He makes the team tick and does things that no other player can. He does the simple things extremely well and probably doesn't get the credit he deserves because he isn't a player who always looks great in the two most evident stats columns – goals and assists.
Since coronavirus is set to impact the transfer window this summer, which positions do you think Die Roten should prioritize and why?
Leroy Sané looks to be the main target for Bayern once again and will give them an extra dimension in attack as well as a killer instinct that has sometimes been lacking and has been lacking for Man City this season with him sidelined. Right-back seems to be a long-standing issue, but Benjamin Pavard may have done enough to show that Bayern maybe don't need to upgrade there after all.
Neuer finally extended his stay in Bavaria. How do you see the goalkeeping conundrum shape up at Bayern when Nubel arrives in summer?
If things continue as they should, Neuer will play in every game in every competition. Germany doesn't have a League Cup any more like in England, so chances are few and far between for backups. Nübel isn't a patch on Neuer, so he should be happy to learn from the best goalkeeper of the past decade.
What are your thoughts on Die Roten giving Flick the permanent job instead of going for someone like Pochettino?
Flick is the perfect appointment for Bayern Munich. The players like him, the fans like him, and most importantly, he is getting results in the Bundesliga and in the Champions League. Pochettino may have the big name, but at the end of the day, hasn't really achieved anything more than Flick has. Bayern have looked at managers with good CVs filled with trophies, but that is not always the answer.
Do you think David Alaba and Jerome Boateng will stay at the club beyond this summer? Can Alphonso Davies' form impact Alaba's future at the club?
Jerome Boateng may be seen as a luxury player by many clubs, given his wages and possible transfer fee. He will probably stay as a result. David Alaba has looked excellent at center-back and performs well with Davies outside him. Keeping Alaba would be excellent for Davies' education, so Bayern should look to keep him for as long as possible.
How do you rate Hasan Salihamidzic's work at Bayern in terms of squad building over the last couple of seasons?
Overall, he's probably done a solid job with recruitment, but Salihamidzic must be damaged by the failed Hudson-Odoi and Sané transfer sagas of the past few years. He probably has learned to keep things quieter from now on and that may help him improve in future.
Which young players do you think will burst on to the scene next season in the Bundesliga?
It's always difficult to predict a year ahead of time, but Bayer Leverkusen look to have found a gem, taking Florian Wirtz from Köln. I have high hopes for Conor Noss of Borussia Mönchengladbach, mainly because he's an Ireland underage international, while Joshua Zirkzee looks like he's ready to be a regular at Bayern already.
With the new generation of German talent becoming the focus of Joachim Low's team, do you think Germany are shaping up well for next year's Euros?
Germany may benefit from the delay of the competition as their young players will be a year older and a year more experienced by the time the Euros comes around. Kai Havertz looks to have ironed out his form issues and should go from strength to strength to be a key player next summer.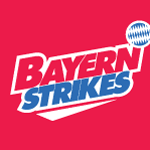 Want your voice heard? Join the Bayern Strikes team!
Write for us!
What are your thoughts on the gameweek 27?
The Berlin derby is the big game of the weekend on paper, but Gladbach Leverkusen promises to be the most entertaining spectacle with two attacking teams fighting for a top-four spot. Bayern should pick another easy three points as Frankfurt aren't a patch on Niko Kovac's side that beat them in the 2018 DFL-Pokal final.