Robert Lewandowski delighted to play for Bayern Munich
Robert Lewandowski is eager to get even better in the coming years after committing his long term future to Bayern Munich.
It has been a fruitful season for Robert Lewandowski at Bayern Munich. The Polish striker is currently nursing an injury that he suffered against Chelsea in February, but his overall campaign has been best in his career.
Lewandowski has been the best number nine in Europe this season. He has scored 40 goals across all competitions before his injury against Chelsea. The Polish striker is on track to record his best tally of goals for Die Roten in a single season.
There was a lot of uncertainty surrounding Lewandowski's future two summers ago. The Polish forward was agitating a move away from the club, but Rekordmeister were not in a mood to entertain offers for their talisman.
Lewandowski kept his head down and kept on scoring goals for fun in the last 18 months. He went on to sign a new deal with the club in August last year. Speaking to Sport1 this week, Lewandowski expressed his satisfaction about playing a big club such as Bayern. He is determined to deliver even better performances in a Bayern shirt.
"I'm at one of the best clubs in the world. I know I can be happy here. We play at a high level. Everything is easier if you play in such a club."

"I spend the game wanting the ball. If I scored a goal, I want another. If I have 3, I must score the fourth. Sometimes teammates say to me, "Don't you realize that we have another game in 2 or 3 days?" But for me, if you love scoring goals, it's never enough."
The Pole is confident about playing at the top level for the next four years. Considering his fitness and consistency in performances, this is very much possible. Die Roten should also get more out of him by managing his workload and give him adequate time for recovery.
The current suspension of football means that Lewandowski will not miss many matches due to injury. When the action resumes, he is expected to regain complete fitness. Bayern can give him proper rest in the next couple of years if they sign a backup striker that can fill in for Lewandowski when he is struggling with fatigue.
Apart from a backup striker, Die Roten should also have more goalscorers in the squad that can support Lewandowski. In the first half of the season, the team heavily relied on Lewandowski in the final third. Hansi Flick rectified this weakness during the winter break, and the pressure on Lewandowski to score every game has decreased.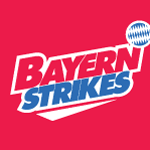 Want your voice heard? Join the Bayern Strikes team!
Write for us!
Die Roten should get a lot of credit to the way they managed Lewandowski's situation in the past 18 months. They remained firm during the transfer sage, and now the player is much happy at the club. Lewandowski is eager to win the Champions League in Bayern shirt, so his return after the break will be a huge boost to their hopes of bringing the trophy back to Allianz Arena.