Bayern Munich need to embrace change after loss against Mainz
It is not fun anymore.
A powerful statement, unlike Bayern's edentulous showing against Mainz, echoes around a proverbial amphitheater. Deafening silence as those who look upon their club, now a consecutive 10th time Bundesliga winner, with respectful amounts of confusion and understanding. The frailties of the juggernaut are no longer a humorous afterthought, yet it doesn't matter. It has hardly mattered all season. A haphazard defensive line, a lackadaisical midfield, and in turn, an unimaginative attack served as a backdrop for Bayern's league-winning season.
Enough of the oxymorons. The optimist's perception would be far different. After all, battling through adversity isn't synonymous with the club. It shows that despite the upheaval last summer with new members, from a new CEO to a new manager, and players finding their way into a side that demands instant and continued success along with numerous injury setbacks, Bayern Munich was able to showcase the essence of their legacy fittingly as they picked up another Meisterschale.
Robert Lewandowski and Thomas Muller extended their intuitive partnership as their goals and assists respectively thrilled supporters all around the world. The youth core flourished once again, displaying the club's proverbial philosophy of 'building now and forever.
Yet there is an important, albeit one that might be deemed unnecessary, counter to the heaps of praise. Defensive lapses have plagued Die Roten all season. What's more concerning is the lack of tactical adjustments to cover the paper-thin cracks. Lack of personnel might have exacerbated the issue, but the inability to adapt has been perplexing.
Lucas Hernandez is yet to assume the position of the cornerstone of the defense, something one can rightfully expect given the inexperience of players in Dayot Upamecano and Alphonso Davies. The midfield pivot of Joshua Kimmich and Leon Goretzka has been oddly inconsistent in their ability to open them up for offensive options. The rigid attack, therefore, takes a tedious amount of time to achieve very little. The ability of Lewandowski and Muller transitioned from brilliance to be lauded to Bayern's rescue cavalry painfully quick. The roles of Serge Gnabry, Kingsley Coman, and Leroy Sane should work far better in tandem than it does on nights when the opposition is willing to absorb the onslaught.
Yet, it speaks to a larger dilemma. When has Bayern embraced change? Historically speaking, only when their hands have been forced to. Bayern's spending philosophy has baffled many who assume their success and financial control in the Bundesliga offer them a place amongst the European Giants.
With new arrivals struggling to find their place, the Bavarian modus operandi is thrown under question. Change is necessary, but are the circumstances dire enough for change? A brief rewind in time will show that time is fast approaching. Niko Kovac faced similar issues and was dealt with before it was too late. Die Roten's fortunes witnessed the arrival of Hansi Flick, a luxury the club doesn't have at the moment. At the same time, it is incredibly impulsive to fathom Nagelsmann's job being at stake so early on in his tenure.
The performance against Mainz showcased a crucial problem with Bayern's monopoly. Ahead of Stuttgart's clash against the Rekordmeister, Hertha coach Felix Magath, whose side sits a place above Stuttgart spoke in an interview with Sky DE. He was frustrated with the way the league winners approach the end of the campaign.
It might not be a glaring issue at Bayern right this minute, but the league's competitive outlook revolves around them, much like planetary bodies around the Sun. And for a hobbled and terribly incoherent Bayern side to cruise through another season, the faintest glimmer of competition may be fading.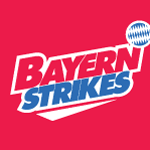 Want your voice heard? Join the Bayern Strikes team!
Write for us!
This is a moment to pause and reevaluate. Solutions may not be easy for the club to accept, given the monetary consequences either way, but Bayern's days being compared to the European Giants may be numbered unless the change is not only embraced but it's also seen as the means for future success. For now, Bayern Munich celebrates another league win, for what it's worth… for now.