Bayern Munich: Top performances from win in Kyiv
With only a few games left in the Champions League group stage, we can really start to see which teams are in a good run of form and look as if they could go the distance. As of the last matchday, FC Bayern Munich was one of four teams to clinch a spot in the Round of 16.
Last night, Bayern was hosted by Dynamo Kyiv in a match that ended with quite some excitement. The German giants went on to win 2-1, clinching the first place spot in the group. Here are my picks for the top three player performances from this win over Dynamo.
Alphonso Davies
Starting at his usual left-back position, Alphonso Davies had quite a game. You would naturally assume that a team in Bayern's position would not care to provide that constant pressure, and maybe even just sit back and defend for a majority of the match, but Davies proved that wrong.
Constantly fighting for possession in the final third, Davies played possibly one of the best games of this season, just from his first-half performance alone! Davies led two massive counter attacks coming in at the 25th and 40th minutes (the second ultimately leading to build up of Kingsley Coman's goal).
On top of pressure and sheer amount of crosses lifted into the box, it seemed as though Davies was constantly trying to feed the ball to Lewandowski, well-knowing that ball will most likely end up in the net. After a lackluster season last year, Alphonso Davies is growing into probably the best wingback in the world with performances like this.
Thomas Muller
In a game like today, it would probably be easier to name the positions that Thomas Muller WASN'T in. Whether it was offense or defense, Muller was always there to be a pain for the opposition. His constant pressure in the final third made him the biggest attacking powerhouse in this game.
Even off the ball, Muller would take up so much space, constantly drawing in two to three defenders. A prime example of this could be seen in both of Bayern's goals. With the bicycle goal from Lewandowski, Muller made his original run in the box that drew in two defenders with him, leaving everything open for the goal. In the second goal, Muller was occupying three Dynamo defenders and still managed to bump the ball to Coman for the score. Der Raumdeuter lived up to the name today with this exceptional performance.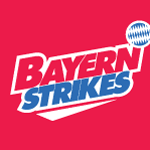 Want your voice heard? Join the Bayern Strikes team!
Write for us!
Leon Goretzka
With Joshua Kimmich still being quarantined, Leon Goretzka had a lot of responsibility in that holding midfield position. Thankfully, he did not fall short. In my opinion, Goretzka had the best defensive performance of his career. His defensive work while stopping counterattacks was impeccable and his tackles were inch perfect.
Throughout the game, Goretzka had four perfectly timed, last ditch tackles as the Dynamo counter blitzed past the Bayern defense. The best of which came during the 64th and 88th minutes, both being sure-fire goals in which he put to an end with a couple of great slide tackles. Even though he didn't produce much threat on goal, Leon Goretzka is hands down my Man of the Match.